Bottom Line
June options expiration is next Friday and our two remaining credit spreads in XRT and SPY have reached their max profit of 14.9% and 17.7%.
Since the highs back in April the portfolio has gained over 8% while the market has pushed 10% lower.
As I stated in last week's report, overall, I am very pleased with the results and expect more to come as implied volatility (options premium) increases as we move into the summer doldrums. Typically, the summer months are a wonderful time to sell credit spreads.
Price action has been extremely choppy over the past several weeks, leaving most of my shorter-term guides stuck in neutral.
A large rally before the open on Thursday didn't last long at all, and stocks sold off for the rest of the day. That kind of failure tends to lead to short-term weakness, but it's not very consistent. The last time we had a day like this (8/22/11), the S&P rocketed higher by more than +3% the next day and kept on going. Due to the overbought readings we got on Wednesday, we'd look for more choppy-to-lower prices in the short-term but continue to see lower-than-average risk on a multi-week time frame.
The spike in implied volatility should offer a good opportunity to place several trades on Monday or Tuesday of next week. Be on the lookout for 1-2 trade alerts next week.
The S&P 500 broke through its longer-term 200-day moving average on Friday (6/1) for the first time in over five months. It did so with great conviction as the major market benchmark lost -2.5% by day's end.
This is not the first time the S&P has dipped below the 200-day with conviction since the low in March 2009. Similar price action occurred back in 2010 and 2011 and both dips led to several months of highly volatile market environments.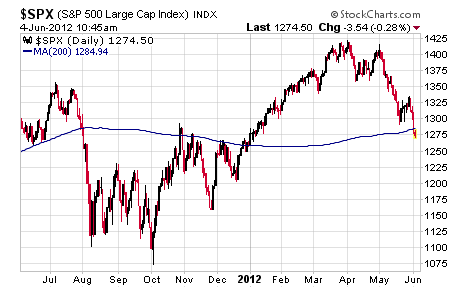 Will we see the same type of price action this time around?
Well, we saw this same type of price action (big drops to push below the 200-day) back in 1929 and 1987. Over the course of the next several weeks both witnessed losses in excess of 20%.
However, there have been eight other times this type of price action occurred and all marked near market bottoms.
Overall there have been twelve occurrences with similar price action to Friday's and 10 of those saw positive gains going forward (over the next three months).
Historically, the numbers side with the bulls, but we could be in store for one of those rare bearish events. Either way, you should be prepared.
So far history looks to repeat itself as the S&P has once again moved above the 200-day, but we really need to watch this longer-term area very close over the next few weeks.
Patience Pays (reminder from last week)
The market is tanking. Investors are freaking out. The fear is palpable.
And, I have been sitting patiently on the sidelines.
Why? - Because patience is the key to any successful long-term trading strategy.
Most traders get drawn into trades that do not fit their trading style because they are just plain bored and looking for something to trade.
But as a trader, you have to have the inner strength to pounce on the opportunity when it presents itself - not force yourself to pounce when the time isn't right.
I've talked before about hunting sloths instead of chasing wolves. Sloths aren't as exciting. They're not quite as common. But when you see one, it's almost a stone-cold lock that you can take it down.
And to be honest, it's much easier to be a patient trader than a patient buy and hold investor. If you're a trader, you probably only have to wait a few weeks at most for an ideal situation to present itself. If you're a standard long term value investor, you could wait years for the ideal time to buy or sell.
Yes, there are currently some short-term extremes in the market, but until today, my proprietary model told me to stay on the sidelines. Plus, even more so than the model I follow, my own common sense told me that I should just stay out of this mess.
While everyone was running for the exits and stressed about their accounts at night, I have been sitting mostly in cash, waiting patiently on the sidelines for a trade set-up to come to fruition.
Yes, there will be times of little trading, but they will be made up for with times of heavy trading. Allow the trades to come to you and not the other way around. This is absolutely imperative if you wish to truly make money over the long-term in options.
With great uncertainty ahead, why would you not want to use a strategy that can take advantage of a bull, bear or sideways market?
It just doesn't make sense why investors choose to stay away from options and it is my goal to show you, through my options strategies how to effectively use options to grow your portfolios or to just bring in income on a monthly basis.
Boring? Maybe to the aggressive crowd out there. But, I am more interested in the profitable trades: high-probability trades that I am confident in due to the short-term extremes that have entered the stock market.
Ultimately, this whole endeavor is about creating and teaching you a successful way to make money using stock options.
If I can't find an edge, which means the risk/reward doesn't suit my liking, I have no problem sitting on the sidelines. Cash is a position.
In trading patience is a requirement.
Remember, patience is the key. Opportunities are made up easier than losses, so if you let a few opportunities pass you by, don't dwell on what could have been. There will always be more opportunities around the corner. Remember, trading is a marathon and not a sprint.
I will continue to patiently wait for opportunities to arise and only trade scenarios where the probability is overwhelmingly on my side. That means trading extremes. This certainly does not guarantee a successful trade, but it definitely makes for a favorable one.
Options 101
Providing insights to individual investors on practical options techniques in options trading can be challenging, but only because people don't want to spend the time to learn about how they can grow their money in a completely different and unique way.
It's not that everyone can't learn about options. Quite the contrary. We are all smart.
Inherently, the financial services industry wants you to buy and hold. So far they have succeeded. But, as most of us already know, that mentality is slowly changing. Given the paltry market returns over the past 12 years, individual investors are becoming acutely aware of some of the techniques that professional investors use on a daily basis. Why? Technology.
Technology has provided an efficient marketplace and now the products are following suit, which brings me back to my last live chat presentation on the 40 most efficient ETFs in the options market and why they should be your focus.
Your focus as an investor or trader should be on the most efficient products available because these products (SPY, DIA, QQQ, IWM, etc.) offer you the best chance for being a successful long-term investor/trader.
You can read the following article for a brief summary on the importance of bid/ask spreads.
What to do in a losing streak
OK, now on to the options question of the week.
em> "Regarding trading systems, I have heard that if you have experienced a string of losses with your system, you should push on and continue to trade according to it. When or how do you determine if you should stick with the system, or if it is time to pack it in and research another type of system? I enjoy reading and find great value in your articles and look forward to your answer on this issue. " -- Tom K.
Dear Tom:
First of all, thank you for the kind words.
Every trading system goes through losing periods. If you have a proven system but are going through one of those rough periods, there are several steps you should take. Your first action is to stop the bleeding. That means reducing the size of your trading units to a minimum. Then begin to analyze why you have suddenly started losing.
A losing streak can come along for many reasons. For instance, a common occurrence happens during a prolonged winning period. Traders get overconfident and increase their risk. Then a couple of losing trades wipes out most or all of the profits and traders have a hard time getting back to their basic system.
Another common mistake is increasing the size of your trades after a couple of losers to try to get the money back, usually just digging a bigger hole.
Sometimes the market changes and the trader is slow to recognize it. When volatility increases, it means adjusting risk and widening stops. Traders are often slow to react to this change. If the market turns from a directional market to a choppy one, momentum traders often get hurt.
And of course, we can't rule out outside factors that affect trading and can cause a trader to execute his system poorly. It could be problems with family or illness or other distraction.
I suggest keeping good data on your trading. Keep records of every trade like I do in the Options Advantage service. Make notes of market factors. Analyze your win/loss ratio.
Remember, this is a long-term endeavor. Expect drawdowns in every system/investment. Remain patient and disciplined in your approach and you will be successful over the long term.
High-Probability, Mean Reversion Indicator
Important note: To keep things simple and focused, I've decided to trade only ETFs in the Options Advantage portfolio. However, I will be sending out trade ideas from my list of highly liquid individual stocks roughly 3-5 times per month. This will provide those of you who prefer more activity the ability to receive more actionable ideas for your own options portfolio.
Here is the list of tickers in Weekly Update last week: AAPL, ABX, AMZN, APC, BA, BAC, BBBY, BIDU, BMY, BP, CAT, CMG, CSCO, CRM, DNDN, FCX, FFIV, FSLR, GMCR, GOOG, GRPN, GS, HAL, HD, HL, IBM, IDCC, INTC, JCP, JNJ, JOY, JPM, KO, LNKD, LULU, LVS, MCD, MCP, MOS, MS, MSFT, NEM, NFLX, NKE, NVDA, PBR, PCLN, POT, QCOM, RIMM, SBUX, SHLD, SINA, V, VHC, WDC, WFC, WLT WMB, WYNN, XOM, YHOO, YOKU, ZNGA
The aforementioned are all stocks with tight bid-ask spread. Professional options traders know that there are only 80-100 products (ETFs and stocks) out there that offer efficient markets.
The following is the baseline for my indicator:
Very overbought - a reading of greater than or equal to 80.0
Overbought - greater than or equal to 70.0
Neutral - between 30.0 and 70.0
Oversold - less than or equal to 30.0
Very oversold - less than or equal to 20.0
Since I'm looking for extreme conditions, I only focus on very overbought and very oversold conditions.
Options Advantage - Crowder Indicator: Most Liquid Stocks (Options)

As of the end of trading on 6/08/12

ETFs

Symbol

Reading

Overbought/Oversold

Benchmark ETFs

Dow

DIA

62.6

Neutral

Russell 2000

IWM

57.7

Neutral

Nasdaq 100

QQQ

60.1

Neutral

S&P 500

SPY

60.7

Neutral

Sector ETFs

Consumer Discretionary

XLY

55.3

Neutral

Consumer Staples

XLP

64.7

Neutral

Energy

XLE

47.5

Neutral

Financials

XLF

55.6

Neutral

Gold Miners

GDX

54.9

Neutral

Homebuilders

XHB

50.8

Neutral

Health Care

XLV

64.9

Neutral

Industrials

XLI

59.2

Neutral

Materials

XLB

65.2

Neutral

Oil and Gas Expl. & Prod.

XOP

42.9

Neutral

Technology

XLK

61.2

Neutral

Real Estate

IYR

59.1

Neutral

Retail

XRT

48.3

Neutral

Utilities

XLU

83.1

Very Oversold

Commodity ETFs

Agriculture

DBA

69.5

Neutral

Gold

GLD

40.1

Neutral

Natural Gas

UNG

28.3

Oversold

Silver

SLV

49.1

Neutral

U.S. Oil

USO

21.6

Oversold

Volatility

S&P 500 VIX Futures

VXX

32.1

Neutral

Dollar

US Dollar Index

UUP

57.9

Neutral

Bonds

Ishares 20+ Treasury

TLT

52.7

Neutral

International

Brazil

EWZ

49.8

Neutral

Chinia

FXI

41.6

Neutral

Emrging Markets

EFA

50.6

Neutral

EAFE

EEM

51.3

Neutral

Japan

EWJ

42.5

Neutral

Leveraged ETFs

Direxion 3X Bear

FAZ

42.9

Neutral

Energy Bear 3X Shares

ERY

49.2

Neutral

Financial Bull 3X

FAS

52.5

Neutral

Ultrashort QQQ

QID

59.1

Neutral

Small Cap Bull 3X

TNA

56.6

Neutral

Smal Cap Bear 3X

TZA

39.8

Neutral

Ultra Long S&P 500

SSO

59.9

Neutral

Ultra Short S&P 500

SDS

37.2

Neutral

Ultra Short 20+ Treasury

TBT

44.7

Neutral
The list is fairly comprehensive, but if you notice have other ETFs that you would like for me to include send me an email. Just remember, the options on the ETF MUST have a efficient options market noted by a tight bid-ask spread. The other thing to notice is that with 40 ETFs to choose from, there's a good selection of potential vehicles to focus my simple strategy onto. I don't have to force a trade or wait very long for one of these vehicles to slip into a range I'm comfortable trading.
If you have any questions about the intricacies of the strategy or using probabilities of success as a way to trade/invest please feel free to email me at optionsadvantage@wyattresearch.com, and follow me on Twitter at @OptAdvantage.
(Ed. Note: the trades below are still open, but they are not buys. DO NOT buy the trades below today)
Open Positions
Short-Term Directional Trades
No open trades.
Credit Spread Trades
The June options expiration cycle is coming to a close with only ten days left until options expiration. So far, our June credit spreads in SPY and XRT looks like winners as they are both over 10% from their respective short strikes. I will allow both trades to expire worthless reaping 14.9% and 18.3%, respectively.
With that being said, now is an ideal time to start looking for July positions to add to the portfolio. Remember, ideally we want to add credit spreads with 20-50 days left until expiration.
We currently have three credit spread position in the Options Advantage portfolio.
*Trade (executed on 5/10/12) SPDR S&P 500 Trust (NYSE: SPY) Iron Condor
As we all know the foundation of Options Advantage is various credit spreads. So far, we have only traded bear call spreads or bull put spreads.
However, with a pop in volatility now would be the ideal time to initiate a different type of credit spread. The only difference is that we will be combining a bear call spread and a bull put spread. The strategy is known as an iron condor. It is a range-bound trade.
SPY would have to move 12.2% lower or 7.5% higher from its current price of $128.50 before the trade begins to reach break-even. The trade will suffer its maximum loss if SPY moves higher than $140 or lower than $111.
Basically as long as SPY stays between 113 and 138 through the July expiration cycle (July 20th - 45 days), the following trade will be a success.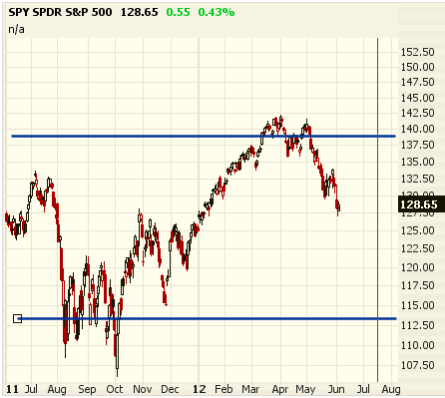 Sold SPY Jul12 138 calls
Bought SPY Jul12 140 calls
Sold SPY Jul12 113 puts
Bought SPY Jul12 111 puts for a net credit of $0.34
Here are the parameters for this trade:
· The Probability of Success - 88.9%
· The max return on the trade is the credit of $0.34 or 20.5% based on the required margin over the next 45 days (July expiration).
· Break-even level - $138.34 or $112.66
· The maximum loss on the trade is $1.66 (remember - that's really $166 per iron condor spread)
With iron condors you can only lose on one side, this enables us to take advantage of the high implied volatility and sell strikes that are further out-of-the-money than our typical vertical spread while keeping our margin the same as if we were just trading a bear call or bull put spread.
However, you must enter the order in as an iron condor. If you attempt to leg-in your broker might require margin for both sides. Although, if you run into this all you have to do is contact your broker and they will fix this for you. Remember, if the trade is a loser it can only lose on one side not both, therefore the margin requirement is only necessary for one side, just like all of the other credit spreads I trade in the Options Advantage service.
*Trade (executed on 5/10/12) SPDR S&P 500 Trust (NYSE: SPY) Bear Call Spread
Sold SPY Jun12 142 calls
Bought SPY Jun12 144 calls for a net credit of $0.3
The position is currently 7.0% from the short strike of 142. The goal of the trade is for SPY to remain BELOW the 142 strike through options expiration. Also, if you notice the trade currently has a 99.2% chance of success. You have to like those odds.

We have a vertical bear call spread (credit spread), so directionally speaking, we prefer to see a move lower in the underlying SPY.
Credit spreads offer a huge advantage over other forms of investing.
With a short out-of-the-money call vertical, if the ETF (SPY) moves lower by expiration, you make money.
If SPY stays flat through expiration, you make money.
And, if SPY moves higher but stays below the short strike of 142 through expiration, you make money.
As long as the advance does not rally 7.0% over the next 7 days, you will retain the entire credit and reap a return of over 17.7%.
*Trade (executed on 5/10/12) SPDR S&P Retail ETF (NYSE: XRT) Bear Call Spread
Sold XRT Jun12 64 calls
Bought XRT Jun12 66 calls for a net credit of $0.26
The position is currently 10.3% from the short strike of 64. The goal of the trade is for XRT to remain BELOW the 64 strike through options expiration. And just like the SPY trade above, the XRT has a very high probability of success....99.0%.

br />
We have a vertical bear call spread (credit spread), so directionally speaking, we prefer to see a move lower in the underlying XRT.
Credit spreads offer a huge advantage over other forms of investing.
With a short out-of-the-money call vertical, if the ETF (XRT) moves lower by expiration, you make money.
If XRT stays flat through expiration, you make money.
And, if XRT moves higher but stays below the short strike of 64 through expiration, you make money.
As long as the advance does not rally 10.3% over the next 7 days, you will retain the entire credit and reap a return of over 14.9%.
Summary
I'll continue to take these safe trades with a high probability of success. We will take some lumps as it is a guaranteed part of trading and our winners will more than make up for our losers.