I understand that as soon as I sign up below, I'll receive instant access to the Options Advantage subscriber-only website...
where I can log in and see Andy's latest trade alerts and real money portfolio so I can position myself for consistent profits using easy-to-implement trades like these recent winners:

And I have a full 30 days to evaluate Andy's service to see if it's right for me. In that time, I can cancel and still receive a full refund. No questions asked!
Here's everything I'll get when I start a no-risk subscription to Options Advantage right now:

Timely alerts rushed to my inbox the second Andy executes a real money trade. Inside, I'll get the full rationale for the trade including a step-by-step breakdown with information on pricing, position sizing, probability of success, and maximum return. Of course, any and all potential risks are fully disclosed.

Weekly updates sent EVERY Friday by 5:30 p.m. ET that contain Andy's outlook on the market and his latest options trading tips and strategies. These information-packed dispatches give me updates on every open position in the portfolio so I always know exactly what's happening.

Andy's personal email address so I can ask him important questions concerning his options strategies and trades.

Fully transparent portfolio so I can look at the books, pore over every transaction, see exactly how Andy earning steady profits trading options.

24/7 access to the Options Advantage subscriber-only website where I can see all of Andy's in-depth special reports and his every update, video presentation, and piece of valuable options research.

And right now, just for signing on, I will receive these 3 Special Reports:
Special Report #1: How to Collect Extra Monthly Income With One Simple Trade

Special Report #2: My Top 5 Options Secrets – REVEALED

Special Report #3: Using ETF Options for Wealth Protection & Portfolio Growth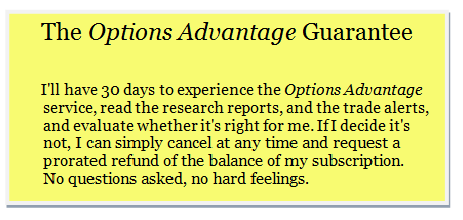 By responding to this limited-time offer:
I'll pay just $32.91 per month – a full $400 OFF our normal rate of $795!
That's a savings of 50%!
And I'll receive the new White Paper, "How to Collect Extra Monthly Income With One Simple Trade" and 12 Months of Options Advantage with Andy Crowder.
If you're ready to join, let's start your risk-free trial...